Thanks to time and environmental factors such as the sun, wind, rain, dust and gravel, a car's paint is destined to fade, permanently damaging the exterior. Hendrick Collision Center, a premier auto body shop serving Atlanta, offers custom auto painting as the perfect way to revitalize your vehicle and restore it to the quality it was when you first took it off the show room floor!
The best time to invest in repainting is right after a collision. The technicians at Hendrick Collision Center will assist you in working out the paint with your insurance company the responsible party involved in your collision.
Custom services for auto paint near Atlanta include vibrant and glossy color and finish, original color matching and repainting, customized painting (such as racing stripes/two-tone effect), personalized painting to reflect personality and lifestyle, decals, vehicle wraps, and post-accident/collision repaint.
Serving customers near Norcross, Duluth, Lawrenceville, Suwanee, and Buford with custom paint and auto car paint repair is one of our many specialties!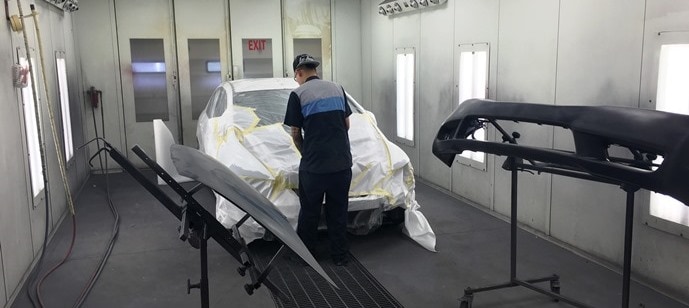 Insurance for Custom Auto Paint Near Atlanta
The expert paint technicians at Hendrick Collision Center guarantee to easily match the replacement panels to your vehicle to the original color, shine and luster of the original paint, even after a nasty collision. This auto body shop near Atlanta utilizes color matching technology, premium paint and skilled technicians to leave your vehicle appearing fresh off the lot.
Our Hendrick Collision Center works with all auto insurance companies, directly or indirectly, to make sure you are covered when you need collision repair.
Additionally, this Atlanta area auto body center provides premium repair services to help you when you're in a hurry. Hendrick Collision Center will even assist you in completing the insurance claims process, if applicable.
Our focus is on providing the best customer service to ensure the safety of your vehicle and your complete satisfaction with any repairs we do. For a free estimate on auto paint near Lawrenceville GA, call (678)957-5260.