When taking a car off the lot of your local dealership, drivers know it's in mint condition. Even when pulling it out of your driveway, you expect it to meet every standard you have for the car you purchased. Once you're out on the road, however, there are no limits to what is fair game. Cars are subjected to extreme weather conditions, road hazards, vandalism, parking obstacles, and perhaps the most dangerous aspect of all, other drivers.
While any of the aforementioned factors can cause body damage to your car, none compare to a collision with another automobile. That's why Hendrick Collision Center is here for you. The collision repair technicians at this auto body shop serving Atlanta have the training and experience to quickly and get your car back on the road at an affordable price.
After a collision, certain precautions should be taken. First and foremost, attempt to move out of traffic for the protection of you, as well as those around you. The proper authorities should be contacted at the scene, and insurance and contact information should be exchanged with the other party or any witnesses. There are plenty of things to remember after being in a collision, however, be sure to keep in mind that Hendricks Collision Center is available to send a tow truck to remove your car from the scene at the towing service number 678.860.3104.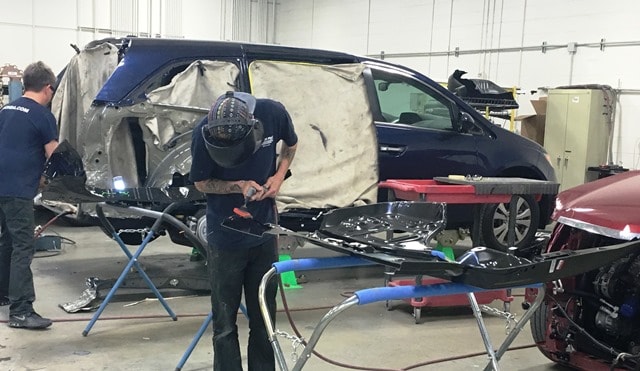 Repairing Your Auto Body Damage
After a car is towed to or driven to our location, a thorough damage assessment will take place. The technicians at this body shop near Atlanta will discuss with the driver options recommended while also answering any questions before starting any repairs.
This Atlanta area auto body shop works with all major auto insurance companies, directly or indirectly,  to make sure you are covered when you need collision repair.
Additionally, Hendrick Collision Center provides premium rush repair services to help you when you're in a hurry. Hendrick Collision Center will even assist you in completing the insurance claims process, if applicable.
Our focus is on providing the best customer service to ensure the safety of your vehicle and your complete satisfaction with any repairs we do. For a free estimate on collision repair near Atlanta GA, call 678-957-5260.