If you are involved in an accident, there are a number of tips to follow to make the process of handling the aftermath much easier. From the moment it happens, until your car is fixed and back on the road, our 
auto body shop
near Atlanta has advice that every driver should follow should they be involved in a collision.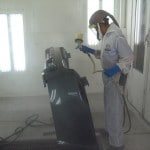 If You Are Involved in an Accident
It's important to not leave the scene of an accident if you are involved in a collision so that you can obtain the information from other parties involved. This is imperative to filing insurance claims.
Be sure to avoid discussing any personal information with regards to your physical condition or mental frame of mind as it can be used against you if any legal action is taken.

Our Atlanta body shop  also recommends that:
Check to ensure that you or any passengers are not injured.
Check with other parties involved. Be sure to call 911 if anyone is injured.
Exchange information with everyone involved, including their name, address, phone number, license plate number, driver's license number and the name and contact information of their insurance company. You should also collect any names and contact information from witnesses.
If you have a camera handy or a phone that is capable of taking photos, take pictures of the scene of the accident to capture images of the condition of all vehicles/property involved and make a record for yourself including the time, location, weather and traffic conditions and a brief description.
Contact your insurance company from the accident scene.
After Your Vehicle Is Repaired
 After our experienced technicians perform vehicle and  windshield repair near Atlanta, there are a number  of important steps to taking care of it and preserving the repairs made. These simple steps will maximize the  durability of the repairs received and ensure that the value of your vehicle is preserved for years to come.
 If your car has had a paint job, it's important to provide special attention to it while the new paint job cures  completely. This involves washing the vehicle at least twice a month with a soft sponge and drying it with a  soft cloth, and avoid running it through an automated car wash or waxing it for the first few months after the  Atlanta auto paint  job.
In general, washing your vehicle in a shady place and in cool weather is ideal for the paint, as well as washing it from the top down. When you do wax your car, use a high-quality wax and don't do it under direct sunlight as this can ruin the vehicle's top coat.
Other tips include cleaning off bird droppings as soon as possible, using a bug remover to get rid of bug remnants before they damage the top coat, and try to avoid automated car washes with rotating brushes to avoid scratches.
The collision center experts at our Atlanta auto body shop will be happy to provide any additional information and tips regarding your vehicle and post-repair care. Keep your car looking its best and running at its peak performance by taking these simple steps to preserve its value, and be sure to take it to our reputable collision center for any future repairs or service!